1. Sleep on a bed with non-toxic finishes
Many wooden bed frames from big-box stores contain formaldehyde, and are finished with toxic coatings. Through Made @ New Living, we created this healthy bedframe, complete with non-toxic coatings, for our friends Karen and Justin. If you have an idea like this, let us know and we can build it together.
2. Noisili.com
Did you know that studies show we work more productively with ambient busy noise in the background? Noisili (using the coffee shop function) is a favorite around here to stay productive even while at home. For the record, the rain setting pairs well with aYellow Leaf Hammock.
3. Freshen up the smell of your home
A good smelling home is not always a healthy home, many of the candles and air fresheners that are on the market contain petroleum and a wide range of chemicals that aren't going to sound like the sort of thing you want to be breathing. Juniper Ridge is all made from natural plants, so you know exactly what is making your home smell better, so go ahead and cook up some spaghetti and tuna.
To make the deal even sweeter, or more pinier to be exact, we will give you a free cabin spray bottle with the purchase of a pillow or air filter.
4. Plant an indoor garden
One of the best things you can do for your indoor home health is to use the natural filtration power of plants. Here is a list of some of the most effective plants, you can get a lot of these from our Heights compatriots Buchanan's Plants. Our preferred soil comes from our friends at The Ground Up.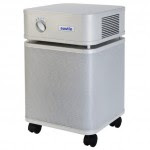 5. Austin Air Filters for allergies or just because
In terms of time and effort, an Austin Air Filter is the easiest way you can quickly improve the health of your home. It's a HEPA-grade filter that you just take of the box, plug in, and turn on, it really couldn't be easier.
Share: